Paddle Challenge 2021
We are doing it again! There is a new round of our famous Paddle Challenge! If you ever wished to paddle more effortlessly and with ease into the line up and powerfully into the waves, instead of feeling like a T-Rex with tiny arms that can barely move forward, you don't want to miss this. In the Paddle Hard Challenge we will boost your paddling power for long paddling sessions and powerful paddling sprints. The Challenge will take place live from 09/06/2021 to 09/14/2021 and you can sign up now HERE.
Why a Surf Paddle Challenge?
Paddling and surfing are inseparable and paddling power is something that all of us can really use. Because: We paddle to get into the line up. We paddle to get waves. We paddle to not be helplessly exposed to currents and other dangers. We spend between 60 and 85% of the surf session paddling.
But: what looks like a seemingly effortless process for pros with proper paddling technique will become pure torture for beginners and casual surfers. 

Paddle surfing workouts in the Paddle Challenge
To paddle well and effortlessly –  it takes more than just muscles and endurance. That's why you'll get an all-around package in the Paddle Challenge. For example, you'll learn how to paddle more efficiently with proper paddling technique! With the right paddling technique you will not only find paddling easier, you will also not tire as quickly and therefore last longer, because you simply use your strength more efficiently. What exercises and routines will help you recover! You'll learn exercises to increase your range-of-motion, minimize your risk for injury and overuse, and more. Kim from surfmentaltraining.com will do mental workouts with you to complement the physical training. We also share with you our best tools and tips for a successful challenge and best results on the water as well.
What to expect in the Paddle Challenge?
Because we want you to REALLY improve your paddling, the Challenge is all about paddle power at all levels.
Live Surfing Workouts with Ramona
During the Challenge, Ramona will give a daily live surf workout focussing on paddling and the right paddle technique. HIIT, yoga, mobility, recovery, you will find a great mix of anything that will make you paddle better. The Live Trainings will take place around 9 am (MESZ) and will be uploaded in your members area shortly after.
Surf Mental Training with Kim
Kim takes you to your growth zone with the mindset coaching session. She will help you to face and overcome your limiting beliefs regarding surfing and to stay laser focussed in the line up. The mental sessions are planned in the evening, around 7 pm MESZ.
Video lessons technique and tips
How does effective paddling technique work? Where is the best place to position yourself? What to consider when paddling? Look forward to exciting input in the video lessons to learn more about paddling your surfboard and an effective paddle technique.
Members area & Facebook group
The Challenge will take place in our Facebook group, where you can join the live workouts and connect with fellow challengers. All contents will be uploaded in your personal member area, so that everything is permanently available to you and you can repeat the Paddle Hard Challenge again and again, anytime you need more paddling power.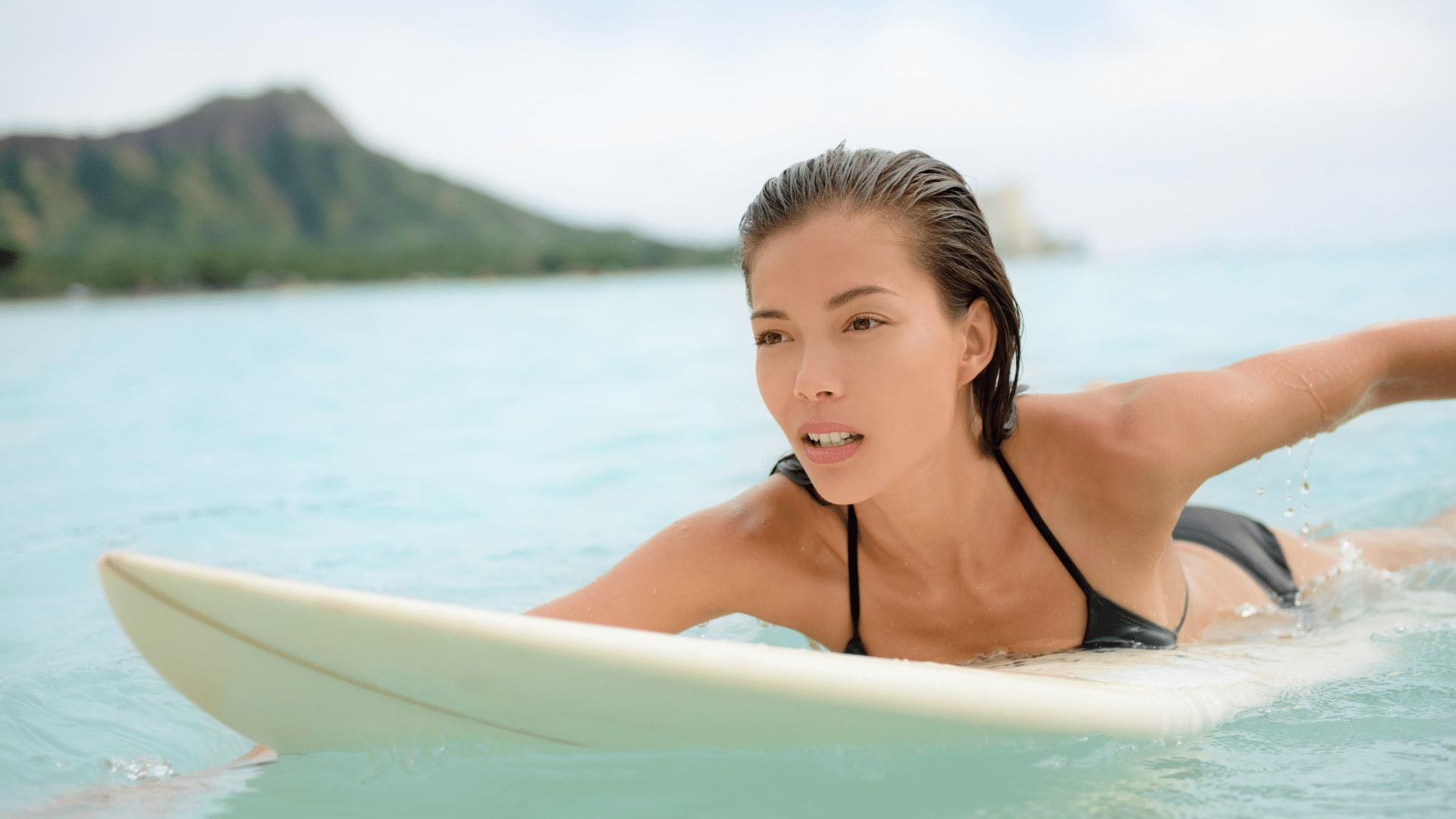 Join the Paddle Challenge
You should not miss this challenge if you want to paddle better, faster, harder and just want to train with others for more paddle power and faster paddle sprints.
But, this challenge is not free. This is simply because we have found that there is often a lack of commitment and many only participate half-heartedly or not at all. But since we have come up with so many cool things for you and put our precious energy into it, it's important to us that those who participate are really up for it. We donate 5 € per participant to the Ocean Clean Up Project. 
With workouts, mobility, mental training, technique drills and tips, you will effortlessly paddle into the line up and into the waves on your next surf trip.
The Paddle Challenge 2021
in the Paddle Challenge You will get:
5 surf specific workouts to improve your paddling and your paddling technique

5 surf mindset coaching sessions

5 video lessons on paddling technique, wave selection and more

Access to your personal member area, where you have access to all content permanently.

Our best tips for paddling

Bonus surprise content.
Sign up now HERE. 
DO YOU HAVE ANY QUESTIONS?
Write us an email or contact us via social media, for example on Instagram or Facebook.